Pros and Cons of Using Cats to Promote Fusion
Pros: Cats have a glorious history in physics
You've seen Brant Widgeon's Space Cats.
Cats have often been used to explain physics, notably Schroedinger's Cat.

It's a particle. It's a wave.
They have also sparked (literally) a love of science.
Here is an essay by Nikola Tesla about his cat Macak, that testifies to this:
In the dusk of the evening, as I stroked Macak's back, I saw a miracle that made me speechless with amazement. Macak's back was a sheet of light and my hand produced a shower of sparks loud enough to be heard all over the house.

My father was a very learned man; he had an answer for every question. But this phenomenon was new even to him. "Well," he finally remarked, "this is nothing but electricity, the same thing you see through the trees in a storm."

My mother seemed charmed. "Stop playing with this cat," she said. "He might start a fire." But I was thinking abstractedly. Is nature a gigantic cat? If so, who strokes its back? It can only be God, I concluded. Here I was, only three years old and already philosophizing.
What's that, you ask? Who is Telsa? Just the Greatest Geek Who Ever Lived.
Cons: Cats are too cute
Then again, like bremsstrahlung losses, the use of cats can also take away from mental aptitude, as noted by xkcd: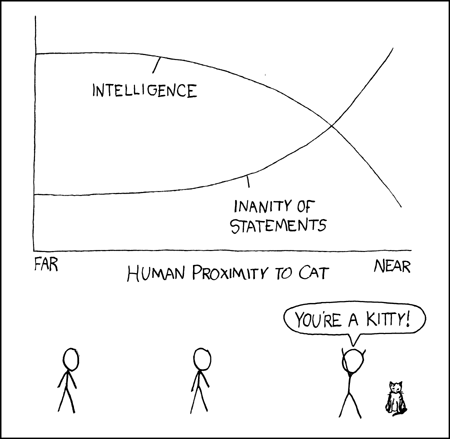 Cats may be a virus.