FY2013 Budget Request Announcement
Posted by
Rezwan Razani
on Feb 21, 2012 at 08:13 PM
What do you think about this?
Let us know in the comments below!
|
Discuss In Forums
[Update (4/18/2012): In response to the announcement, the fusion community has been pulling together, fighting this measure with the help of Congress Members. Progress is being made to reverse the cuts, but budget battles have many steps and nothing is certain until the end. This is why it is vitally important to keep sending letters to Congress and the Senate. Keep building support for fusion!]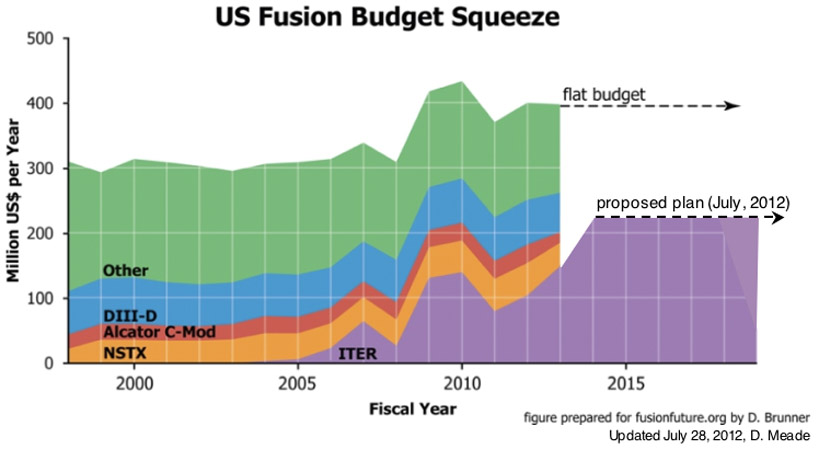 Figure from "The Fusion Budget Problem" prepared for FusionFuture.org by D. Brunner.
The budget cuts $48M (~16%) from the domestic fusion budget while adding $45M to ITER contributions (to $150M). A weak US fusion program would not be able to reap the benefits of ITER should it become operational. On top of that, the new budget effectively abolishes "innovative concepts" - the fusion alternatives - the lesser known explorations that might get us to fusion quicker and cheaper.
Response
For a detailed list of the activity and statements in response to the budget, visit FirePPPL.gov. Some highlights:
A transcription of Dr. Stephen Dean's (President, Fusion Power Associates) remarks delivered at a meeting of the DOE Fusion Energy Sciences Advisory Committee (FESAC) on Feb. 29, 2012.
Senator Kerry Urges Increased Funding for US Fusion Program in FY 2013 – This is his letter to the Senate Energy and Water Appropriations Subcommittee requesting an expansion of the budget in the Senate FY 2013 Energy and Water Appropriations bill.
American Security Project: BGen Stephen A. Cheney USMC (Ret.) , ASP's CEO released a statement regarding the cut in the Department of Energy's Fusion Energy Sciences Budget